Brazilian cotton
production
In just over 20 years, Brazilian cotton has made a significant leap in terms of production thanks to constant investments in cutting-edge technology, increasing professionalization of growers, and innovations in research and growing techniques.
In a few years, Brazil has doubled its cotton acreage just by balancing the crop production mix with soy, corn, and other grains. During this period, production increased from 1.3 million tons in the 2015/2016 crop to approximately 2.7 million tons in 2020/2021.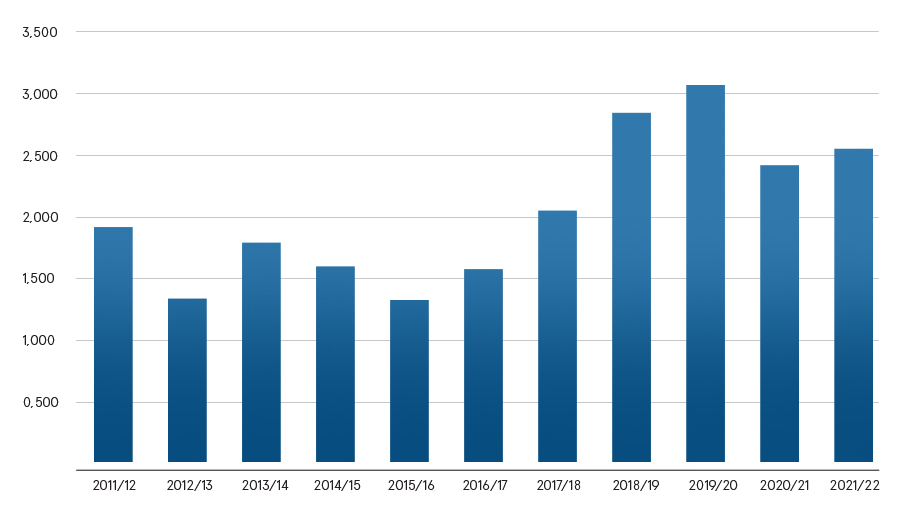 Brazilian cotton crops rely on agriculture 4.0 and on mechanisms that include 100% automated harvesting, drones for area and climate monitoring, geostatistics software, and integrated systems. In addition, Abrapa provides periodic training for professionals in topics including management, monitoring, laboratory testing, and sustainability.
With a combination of technology, close participation and commitment, Brazilian cotton with environmental responsibility and the social development of its communities, offering traceability, sustainability, quality, and year-round availability.
data on Brazilian cotton for the 2020/2021 crop
4th largest producer

In recent years Brazil has ranked in the top 5 world producers, alongside China, India, USA, and Pakistan.

---

2nd largest exporter

In just two harvest seasons, Brazil moved from being the 4th largest exporter to its current position.

---

2.49 million tons production estimate

1st cotton yields in drylands.
Highest cotton yield average in the world without irrigation, at 1,800 Kg/hectare.
Currently, 92% of Brazilian cotton is in dryland areas.

---

general information

379 ABR certified farms
370 BCI licensed farms
266 ginning plants
11 HVI laboratories participating in the Abrapa program
More than 12 million HVI tests planned
technology
Brazilian cotton has 20 years of constant research and investments in technology. Our main innovations include:
Use of high-tech machinery for sowing, input applications, monitoring and harvesting, resulting in contamination-free cotton
Use of seeds certified by international and national technological protocols
Constant genetic improvement
No-till planting, which reduces the need for machines and preserves soil fertility and health
Integrated pest and disease management with synergy between the categories of agricultural crop, behavioral, genetic, biological and intelligent chemical control.
Installation of bio factories on the producing farms, called On Farm;
Variable rate fertilizer and pesticide application technology through precision agriculture solutions
Aerial spraying using management tools that allow for the protection of ecosystems, bee hives, other neighboring agricultural crops, cities, rivers and lakes.
Ginning machinery precisely regulated to maintain the intrinsic quality characteristics of the fiber
Sustainability practices via apps and management tools aiming at better decision making