Biological control in Brazil: what you need to know about the techniques applied to cotton 
Brazilian cotton | 12 de May de 2021
Biological control in Brazil grows about 15% a year and is a step forward in terms of sustainable practices.  
Biological and microbiological control is one of the most important tools for Integrated Pest Management (IPM) in cotton crops and has been growing around 15% a year in Brazil, due to the positive technical results, high economic viability, and environmental benefits involved. This approach was first used in cotton fields in the 1990s and uses natural enemies of pests, such as insects, fungi, viruses, and bacteria, which can control crop infestations in tropical countries. 
In Brazil, about 80% of all production of inputs for biological control is used in the cultivation of sugarcane, soybean, and coffee, across more than 23 million hectares. However, its use has been expanding exponentially also in cotton farms. 
Through biological control, priority is given to a natural alternative that enables the reduction of the use of conventional chemical pesticides by up to 30%, while considering variables such as climate and the incidence of pests in the growing region. Control methods are pest-specific and are monitored directly in the field by highly trained technicians, with the aid of digital applications and specialized software. As a result, the use of chemical pesticides occurs only when the intensity of the attack exceeds the level of damage control for cotton, that is, when there will effectively be yield losses if there is no chemical intervention.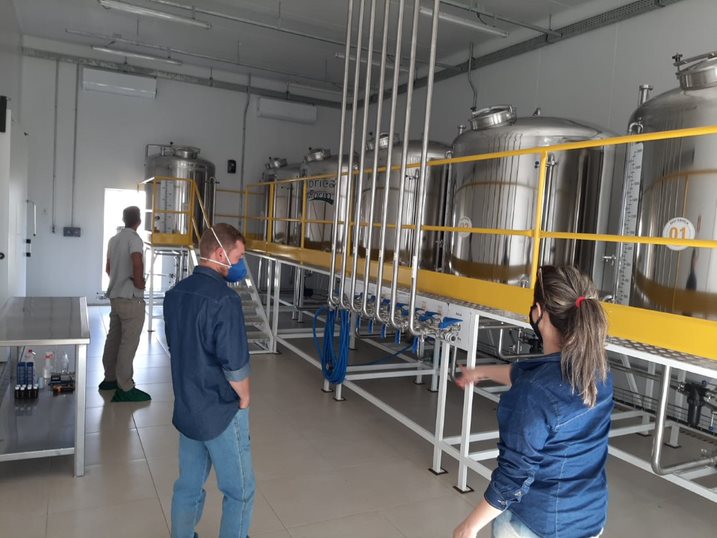 Cotton and Biological control in Brazil
One of the main biological agents used in Brazilian cotton crops is Trichogramma pretiosum, a mini wasp released from drones or airplanes over the fields. Female insects look for eggs of crop-damaging caterpillars to lay their eggs, thus interrupting the development of pests early on in their life cycle. Thus, they turn their natural enemy's eggs into their incubators, giving rise to new wasps. This process takes 7 to 12 days, depending on the area's temperature. 
Goiás, Mato Grosso, and Minas Gerais are cotton-producing states which have local farmers associations affiliated to the Brazilian Cotton Growers Association (Abrapa), and which massively adopt biological control agents in their cotton crops. Together those states are home to a total of five bio-factories, with a capacity to cover 1.1 million hectares of cotton for the 2020/2021 season – a figure that accounts for more than 80% of the country's production. In other states, Abrapa encourages the opening of bio-factories at the farms: the system, known as On Farm, is a model in which the farm itself replicates biological agents to become self-sufficient, respecting the necessary protocols and good industrial practices involved in the process. 
The bio-factory located in Goiás produces enough bioinsecticides, biofungicides, bionematicides, and inoculants to cover 2,500 hectares per week, through the Goiás Agricultural Institute (IGA) and the Goiás Cotton Growers Association (Agopa). In Mato Grosso, under the coordination of the Mato Grosso Cotton Institute (Ima-MT), the production of bacteria and inoculants in Primavera do Leste; fungi in Campo Verde and baculovirus in Sorriso covers approximately 1 million hectares. For the 2021/2022 season, the goal is to expand the production of inputs for biological control in cotton and to cover another 3 million hectares of soybean in the state. 
Minas Gerais focuses on the production of the Trichogramma pretiosum mini wasp, aiming to control a caterpillar complex that is of high economic importance for cotton, soybean, and corn.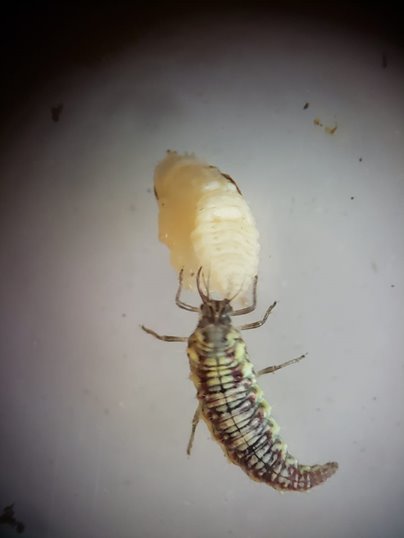 A successful case in the state of Minas Gerais
With just over 25 thousand hectares of cotton in the 2020/2021 crop, Minas Gerais is the fourth largest cotton-growing state in Brazil and one of Abrapa's references in biological control. 
Advances in biological management in the state's cotton fields has generated an increasingly sustainable and balanced production system, with positive results in terms of lint quality and productivity. Due to constant innovations and investments, the bio-factory run by the Minas Gerais Cotton Growers Association (Amipa) has been able to expand its production by 20% a year, and the Association expects to maintain this pace for the next seasons. 
One of the main results from the adoption of biological control in the cotton grown in Minas Gerais state was the reduction in the number of chemical pesticide applications. Such sustainable practice provides several other benefits with positive impacts on soil and plant health, and on the ecosystem as a whole. 
As an example, better levels of cotton aphid and whitefly control were observed. These pests are the main cause of stickiness in cotton and such control results in better quality lint for the Brazilian and global textile industries. Moreover, there is a greater balance in the ecosystem due to the exponential increase in pollinators (mainly bees) and natural enemies of cotton pests, such as ladybugs. 
The technology behind biological control management has led to efficiency gains across the process. With the use of drones, coverage went from 40 ha/day to 450 ha/day, or a more than 10 times efficiency increase. Due to the reduction in the use of agricultural machinery, biological control has also contributed to a drop in the emission of greenhouse gases, in the consumption of diesel oil, and soil compaction rates, resulting in a positive balance of up to 2 tons per hectare in CO2 sequestration.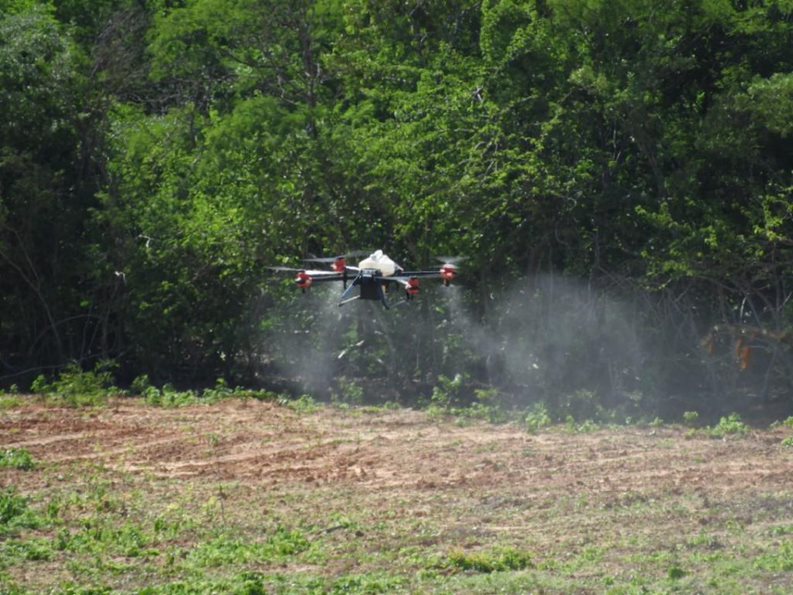 The following results were achieved with the adoption of biological control in the sustainable management of cotton in the state of Minas Gerais: 
60% reduction in spraying for specific caterpillar control 

 

Up to 30% reduction in the overall use of chemical pesticides

 

Better control levels of cotton aphids and whiteflies 

 
More balanced ecosystem due to an increase in natural enemies and pollinators

 

Increased quality and less viscosity in the lint

 

Does not lead to resistance to other pests and does not affect the efficacy of chemical pesticides

 

Up to 5% increase in productivity and lint yield 

 

Positive balance of CO2 sequestration from the atmosphere

 
Promotes biodiversity and lowers soil compaction rates

 

Increases area coverage with the use of drones

 

Up to 10% reduction in production costs

 
Biological control and certifications
Biological control provides the necessary conditions for the cotton plant to be vigorous, productive, and experience the appropriate maturation process, thus reaching the maximum quality potential offered by the genetics of the cotton variety. For this reason, its practice has been growing in Brazilian cotton farms, becoming an important component of national and international certification protocols. 
Under the Responsible Brazilian Cotton sustainability program (ABR), which operates in benchmarking with the Better Cotton Initiative (BCI) in Brazil, 28 items involve environmental performance and good agricultural practices that are applied to farms and are audited by third-party certification bodies. 
This way, all farms that are certified by the ABR and BCI programs prioritize integrated pest management and biological control in their agronomic management systems. For the 2020/2021 crop, the forecast is that 80% of the Brazilian cotton production will be certified under the best social and environmental practices. 
Thanks to innovations and new solutions in sustainable biological management, Brazil is one of the references in this field for the Food and Agriculture Organization of the United Nations (FAO) and organizes international missions to share biological control technology and good agricultural practices related to IPM processes with other tropical countries.