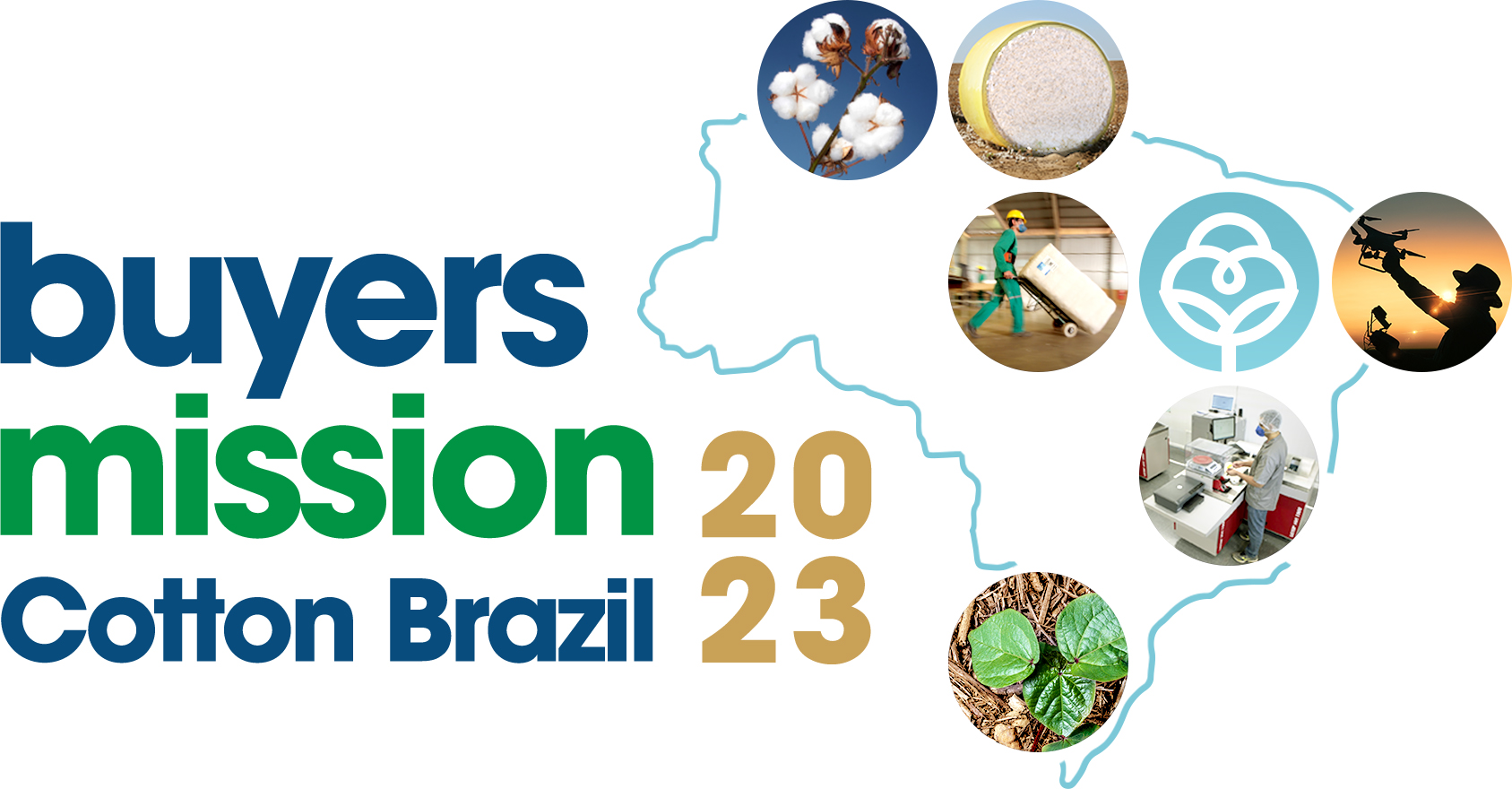 Welcome!
We are glad you're here with us!
---
Your participation in the 2023 Buyer Mission is extremely important to us and we hope it will be a productive and enriching experience for your business. This is an excellent opportunity for us to share experiences, knowledge and strengthen our ties even further through Brazilian cotton and its production chain.
In this space, you will find everything about the Mission.
If you have any questions, don't hesitate to contact our team!
agenda
---
DAY 1 - 28/07 - Arrival in São Paulo/SP

All day
Bilingual reception and transfer to the hotel for our guests. We will welcome our guests at the Tivoli Mofarrej São Paulo Hotel.

DAY 2 - 29/07 - São Paulo/SP, Cuiabá/MT and Lago do Manso/MT

05:30 - 06:00
Check out from Tivoli Mofarrej - Please bring down the bags and leave them at the reception to be loaded onto the bus. Afterward, proceed to have breakfast.
6h30
Displacement to Congonhas Airport
Bus
7h30
Check in at Congonhas Airport
09h45 - 11h05
Flight Congonhas/Cuiabá – Latam 3028
Commercial Flight
12h30 - 15h00
Transfer from Cuiabá to Malai Manso Resort
15h00
Check in Malai Manso Resort
Bus/vans
19h30
Dinner and overnight stay DAY 3 – 30/07 – Malai M

DAY 3 - 30/07 - Malai Manso Resort/MT

10h
Workshop Cotton Brazil at Sala Jatobá
13h
Paella offered by ANEA
Night
Overnight stay at Malai Manso Resort

DAY 4 - 31/07 - Sapezal/MT

6h00
Breakfast
6h40
Transfer from Malai Manso Resort to the runway/airport.
Bus
7h15
Takeoff from Lago de Manso to Sapezal - Santa Luzia Farm.
Private aircraft
8h30 - 12h45
Visit to Bom Futuro Cotton Mill and Santa Luzia Farm.
12h30 - 14h30h
Lunch at Santa Luzia farm
14h40
Transfer from Sapezal to Malai Manso Resort

DAY 5 - 01/08 - Primavera do Leste/MT and Campo Verde/MT

6h00 - 7h00
Check out from Malai Manso Resort. Please bring down the bags and leave them at the reception to be loaded onto the bus. Afterward, proceed to have breakfast.
7h40 - 7h50
Transfer from Malai to Campo Verde
Private aircraft
8h50
Visit to the Cooperfibra Spinning Mill and Cotton Mill
11h
Visit to the Crop Field at Santo Antonio Farm
12h30 - 14h
Lunch at Fazenda Santo Antônio
14h20 - 14h50
Transfer to Primavera do Leste
Private aircraft
15h00
Visit to Unicotton Laboratory
16h30
Check-in at the Transamerica Hotel
19h
Dinner at Le Bistrô
Night
0vernight stay in Primavera do Leste – Hotel Fit Transamérica

DAY 6 - 02/08 - Primavera do Leste/MT - São Desidério/BA - Luis Eduardo Magalhães/BA

6h - 7h
Check out from Fit Transamérica and displacement to the airport. Please bring down the bags and leave them at the reception to be loaded onto the bus. Afterward, proceed to have breakfast.
7h - 10h20
Transfer from Primavera do Leste, MT to São Desidério, BA – Acalanto Farm of Horita Group
Private aircraft
11h30 - 12h30
Horita Group presentation
12h30 - 13h30
Lunch at Acalanto Farm
13h40 - 14h10
Displacement from Acalanto farm to Algopar cotton mill - Horita Group.
Bus
14h20 - 15h00
Visit to Algopar cotton mill - Horita Group
15h10 - 15h30
Displacement from Algopar cotton mill to Warpol farm/cotton mill - Busato Group.
Bus
15h40 - 16h30
Visit to Warpol farm/cotton mill - Busato Group and coffee break
16h45 -17h45
Displacement from Warpol farm/cotton mill - Busato Group to Solar Rio de Pedras hotel
Bus
18h00 - 19h00
Visit to the Fiber Analysis Center (Abapa Classification Laboratory)
19h30
Dinner with producers and overnight stay in Luiz Eduardo Magalhães

DAY 7 - 03/08 - Luís Eduardo Magalhães/BA - Cristalina/GO - Brasília/DF

6h30h
Check out from hotel. Please bring down the bags and leave them at the reception to be loaded onto the bus. Afterward, proceed to have breakfast.
7h10
Departure from the hotel to the airport
Bus
7h30 - 08h45
Takeoff from LEM to Pamplona farm - SLC Agrícola Group
Private aircraft
09h30 - 11h30
Presentation of Pamplona Farm (SLC) and visit to the cotton mill with an official pilot certification process and the take-up room
11h30 - 12h50
Lunch at Pamplona Farm
13h00 - 14h30
Displacement from Pamplona Farm to Brasília, Federal District (DF).
Bus
15h00 - 16h30
Coffee brask and visit to the Brazilian Center of Reference in Cotton Analysis - CBRA (Abrapa).
16h30 às 17h00
Displacement to the Royal Tulip Brasília Alvorada Hotel.
Bus
19h30
Dinner with authorities in Brasília.

DAY 8 - 04/08 - Brasília/DF - Rio de Janeiro/RJ

06h
Check out from hotel. Please bring down the bags and leave them at the reception to be loaded onto the bus. Afterward, proceed to have breakfast.
06h40
Departure to airport
08h40 - 10h25
Boarding on Flight Brasília/Rio de Janeiro Santos Dumont (flight Gol 2061)
Comercial Flight
10h25
Disembarking at Santos Dumont Airport.
12h00
Lunch at Fogo de Chão
15h00
Tourism at Bondinho and Pão de Açucar
Night
Overnight stay at Rio de Janeiro - Hotel Copacabana Palace Belmond

DAY 9 - 05/08 - Rio de Janeiro/RJ

Morning/After noon
Tourism program in Rio de Janeiro
Lunch
Closing Lunch - Copacabana Palace Feijoada.
Night
Return to home countries
see how the last Mission was
---
contact us
---
Marcelo Duarte
+55 65 8833 5520
---
Renata Caixeta
+55 61 99813-6398
---
Maria Clara Vidilli
+55 14 99736-3025