Market expansion for Brazilian cotton is top of the agenda in India  
Calendar and Events | 14 de November de 2023
Brazilian cotton growers have initiated important dialogues with the indian government and trade associations to obtain an import quota for cotton from Brazil, which will provide exemption from the 11% import tariff currently in force in India. The Brazilian Cotton Growers Association (Abrapa) was part of the Brazilian Ministry of Agriculture and Livestock (Mapa) delegation that visited the country last week.  
India is among the ten priority countries for the Cotton Brazil program. Cotton Brazil is the global brand for the promotion of Brazilian cotton in partnership with the Brazilian Trade and Investment Promotion Agency (Apex Brasil) and with the support of the National Cotton Shippers Association (Anea). 
Minister Carlos Fávaro gave a positive assessment of the mission to India. "We discussed import quotas for poultry, pigs, cotton and fruits and we made satisfactory progress," he said.  
The vice-president of Abrapa, Mr. Celestino Zanella, and the director of International Relations, Mr. Marcelo Duarte, met with the general secretary of the Confederation of the Indian Textile Industry (CITI), Mrs. Chandrima Chatterjee, to explain why they are requesting this and they also asked for support to promote Brazilian cotton in the country. The two organisations have been partners since 2021 when a Memorandum of Understanding was signed between CITI, Abrapa and Anea through the Cotton Brazil program.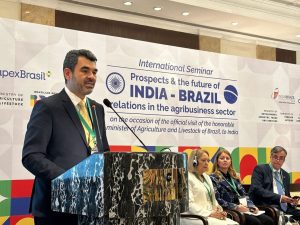 A meeting between the Indian Ministry of Commerce, Minister Fávaro, the president of Apex-Brasil, Mr. Jorge Viana, and the Brazilian ambassador to India, Mr. Kenneth Nóbrega, was held in order to strengthen the request to remove the import tariff. .  
According to Marcelo Duarte, Indian authorities are concerned about the domestic supply of cotton in their country.
"Even though it is the world's largest cotton producer, India needs to increase the availability of cotton in order to meet the requirements of its textile industry, and Brazilian cotton can complement domestic stocks. Therefore, we are reinforcing the information about the quality of our product and our ability to be reliable suppliers of cotton to Indian customers", he explained.   
With a smaller growing area, due to unfavourable weather conditions, cotton production in India in 2023/24 is forecast to fall by 7.5%. If this crop failure is confirmed, imports could more than double compared to the previous season. Estimates indicate that India will need to purchase 500 thousand tonnes of cotton in 2023/24.  
For Mr. Zanella, vice-president of Abrapa, the mission was important to learn and understand even more about Indian cotton production and customer demands. "India is a country that is growing a lot in terms of population and, consequently, it is important that we work with them. The Indian cotton yields are still low, which is why we can offer Brazilian cotton with guaranteed quality, certification and a reliable supply," he said.  
Cotton Brazil
Since the program began in 2019, the Cotton Brazil brand has represented the Brazilian cotton production chain on a global scale, prioritizing activities and events in ten countries: China, Vietnam, Pakistan, Bangladesh, South Korea, Indonesia, India, Thailand, Turkey and Egypt.