Cases of innovation around Brazilian cotton are presented at COP 27 
Calendar and Events | 30 de November de 2022
On November 15th, the Brazilian cotton industry gained center stage during the United Nations Climate Change Conference – COP 27, held in Sharm El Sheikh, Egypt.  
Representing Abrapa – Brazilian Cotton Growers Association – and the Cotton Brazil program, SLC-Agrícola's Sustainability Director Álvaro Luiz Dilli presented cases of innovation that spell commitment to the environment and to a responsible future in agricultural production.  
The presentation took place during a panel on Agriculture and Environmental Services at the Brazil Pavilion, and was organized as part of the Cotton Brazil program, which is supported by Apex-Brasil, the National Cotton Shippers Association (Anea), and the Ministry of Foreign Affairs (MRE). 
Area conservation is a model to the world
Dilli talked about the conservation of ecosystems and about biodiversity, presenting the case of SLC – Agrícola, a company that adopts responsible farming practices, with emphasis on certified cotton. He also stressed the commitment of the group, which has a financial compensation contract in place for the preservation of an area of 1,358 hectares of native vegetation on the Perdizes Farm, in Mato Grosso state.
This is the largest single area and the first located in the Amazon biome to join the CONSERV mechanism, devised by IPAM (Amazon Environmental Research Institute) and executed in partnership with the EDF (Environmental Defense Fund), and the Woodwell Climate Research Center. 
Through this system, launched in 2020, farmers receive compensation for the conservation of vegetation areas that exceed the size required by the Forest Code. SLC-Agrícola's adhesion is in addition to the approval of the Zero Deforestation Policy, in which it formalized its commitment not to convert areas with native vegetation for agricultural use, even those eligible in the respective environmental licensing processes.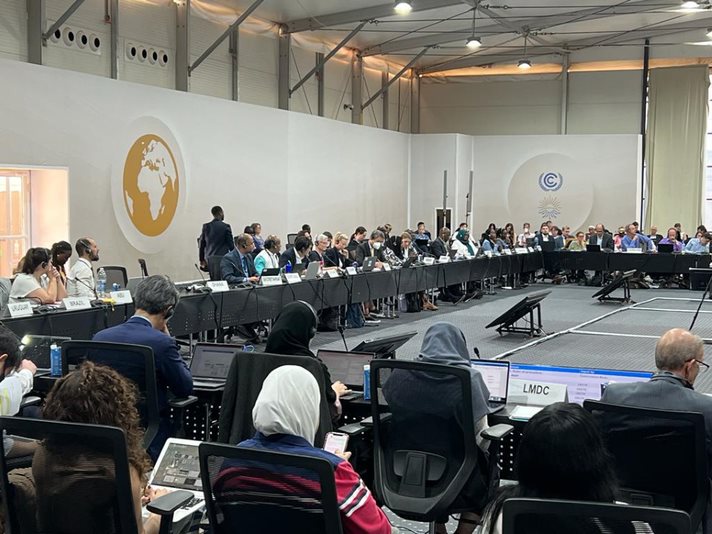 Responsible Brazilian Cotton inspires other countries
The executive also presented the Responsible Brazilian Cotton (ABR) program, which certified 86% of the Brazilian production in the 2021/22 crop.  
The country is the largest supplier of BCI-licensed cotton, with a 42% share of the global Better Cotton (BC) market and, since 2013, the program has been benchmarking with BCI. The rigorous protocol covers 183 items ranging from good agricultural practices to assurances of health, safety, and worker wellbeing. 
The COP27
The 27th United Nations Climate Change Conference brought together representatives of the signatory countries of the Paris Agreement from November 7th to 18th. For 12 days, participants debated climate adaptation, mitigation of greenhouse gases, impacts of climate change on finance, and the collaboration to curb global warming. 
Brazil is the second largest exporter of cotton in the world and the fourth largest producer. It can meet both the internal and external demands and its main export destination is Asia.