Brazil grows responsible cotton in a tropical climate
Brazilian cotton | 18 de July de 2022
Growing cotton in a tropical climate using responsible farming practices is a challenge that has been taken on by Brazilian farmers for decades and today the positive impacts are clear to see. Numbers don´t lie, and in Brazil's case they demonstrate the low social and environmental impact of Brazilian cotton growing.
"Only 8% of our production comes from irrigated areas", explains the president of the Brazilian Cotton Growers Association (Abrapa), Mr. Júlio Cézar Busato.
As the fourth largest cotton producer in the world, with 2.36 million tonnes grown in the 2020/21 season, Brazil has 84% of all its production certified by the "Responsible Brazilian Cotton" (ABR) program. This program verifies compliance with 183 items related to labor relations, environmental management practices, proper land tenure and sanitary control.
Participation in the program is voluntary but it has received strong support from the farmers in Brazil who have professionalized the cotton growing sector. Although cotton farms in Brazil are mostly family-owned, they have an average size of 4,000 hectares and in the last 20 years they have invested heavily in management and technology to face the challenge of producing responsibly on a large scale.
High technology and biodiversity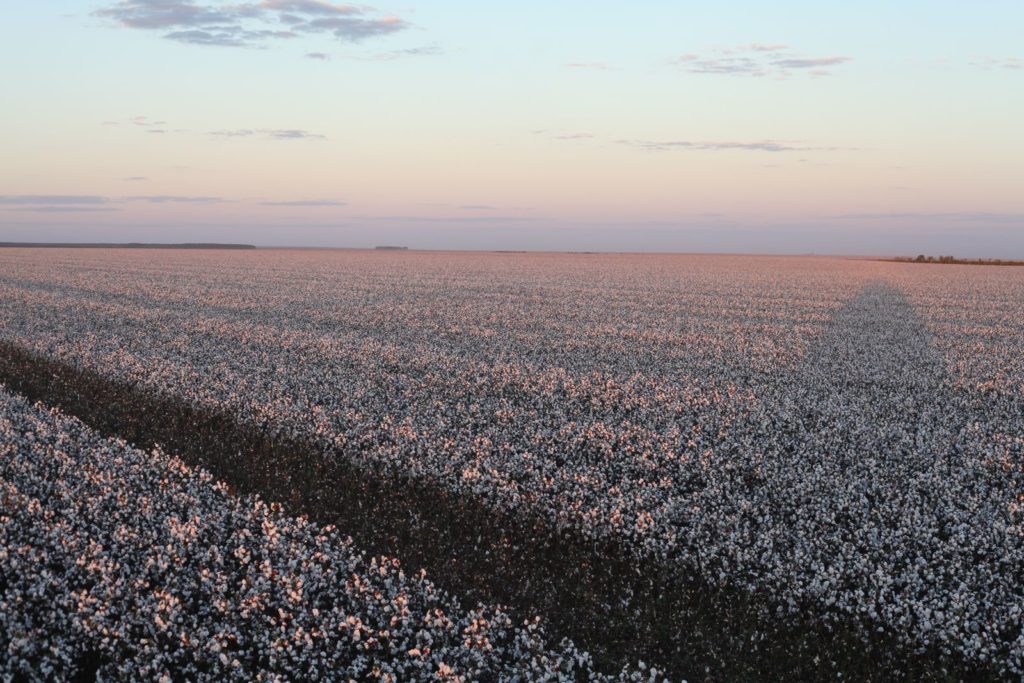 Harvesting is fully mechanized throughout the country and most cotton gins are installed on the farms.
This professionalized farming approach also allows Brazil to grow 65% of its cotton production as a second crop. This is because the farmers are able to get two full growing cycles with soybean in the summer and cotton in the winter.
This crop rotation generates benefits for biodiversity and the double use of the growing area makes the farms more efficient. The average Brazilian yield of 1,800 kilos of cotton lint per hectare (kg/ha) surpasses the average global by 128%.
Some common practices in Brazil, such as the so-called "sanitary fallow" period which prohibits cotton growing as a sanitary protection measure, demonstrate the importance given to the use of healthier farming practices. Another practice is sowing seeds directly under the straw layer left over from the previous crop (normally soybeans). "This is called no-till planting and it generates a greater volume of organic matter, prevents erosion and allows more CO² to remain in the soil", explains Mr. Busato.
These practices and the overall sustainability figures in Brazilian cotton farming were the subject of a talk given by Mr. Busato at the panel debate called "Disruptors: Breakthrough Approaches" at the Better Cotton Conference, held on June 22-23 in Malmö, Sweden. Hosted by BCI, a non-profit organization set up in 2005 to promote responsible practices in global cotton farming, this event focused on the current challenges related to climate.
BCI's main initiative is the Better Cotton global certification. Brazil is currently the world's largest producer of Better Cotton, having supplied 42% of all global Better Cotton in the 2020/21 season.